Principles of Technology
Interest Level : 9-12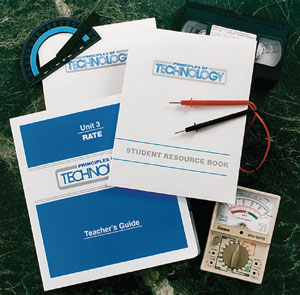 Principles of Technology is a practical laboratory-based course that teaches traditional physics concepts in the context of their relationship to four energy systems—mechanical, fluid, electrical, and thermal.
A one- or two-year program for high school students, Principles of Technology applies physics principles to technological situations and concentrates more on the use of physics concepts in the workplace rather than on the derivation and manipulation of physics formulas.
Physics in Context or Principles of Technology ? Which course is right for your students? click here.

Benefits
Geared for the middle 50% of high school students
Allows students to discover and experience physics firsthand as it exposes them to modern technical equipment
Over 90 hands-on laboratory activities for cooperative learning opportunities and hands-on learning
Focuses on problem-solving, real-life applications, and decision-making skills
Appropriate for CTE, TechPrep, Career Pathways and other technical initiatives
Comprised of an integrated learning package to meet different learning styles of students
For a list of equipment vendors, please click here.

Contents:
Year 1
Year 2
Unit 1:
Force
Unit 8:
Momentum
Unit 2:
Work
Unit 9:
Waves and Vibrations
Unit 3:
Rate
Unit 10:
Energy Convertors
Unit 4:
Resistance
Unit 11:
Transducers
Unit 5:
Energy
Unit 12:
Radiation
Unit 6:
Power
Unit 13:
Light and Optical Systems
Unit 7:
Force Transformers
Unit 14:
Time Constants

Components
ISBN #
Title
Price
Student (minimum order of 15 copies per unit)
ISBN #
Title
Price


3 Year Online Subscription
ISBN #
Title
Price
Teacher's Guide
ISBN #
Title
Price
We will no longer sell accesses to teacher materials without the purchase of a classroom of student materials.