ABC Technologies
Interest Level : 9-12
Copyright 2006-2010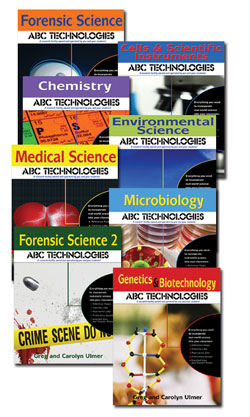 Developed by Greg and Carolyn Ulmer, two science teachers from Fort Zumwalt South High School in St. Peters, MO, this student oriented, hands-on curriculum teaches science skills that students will use to solve real world problems.
Eight curriculum modules stress:
critical thinking and problem solving skills
science and math skills
personal skills used in business
ABC TECHNOLOGIES is a science research facility. The students are the employees of ABC TECHNOLOGIES and work in science research teams, with the teacher serving as the supervisor (of course!).
As employees of ABC TECHNOLOGIES the students are trained in a variety of science skills (where they gain knowledge and an understanding of science). Students then use their science skills to solve a wide range of real world science problems from clients throughout the world.

GENETICS & BIOTECHNOLOGY

DNA Necklace from Own DNA
Observe Mitosis by Growing and Staining Onion Root Tips
Cat Genetics
Natural Selection With Colored Toothpicks

CELLS AND SCIENTIFIC INSTRUMENTS

Paper Chromatography
Cells And Their Organelles
Yeast And Energy Production
Agarose Gel Electrophoresis

MEDICAL SCIENCE

Identifying Organic Molecules In Foods
Completing Blood Cell Counts
Analyzing A Patient's Urine
Determining A Patient's Health

FORENSIC SCIENCE

How To Classify and Lift Fingerprints
How To Identify Inks From Writing Pens
How To Analyze Paper
How To Analyze Handwriting

CHEMISTRY

Atoms and Chemical Bonding
Understanding Chemical Reactions
The Chemistry of Dyeing Cloth
Understanding Acids, Bases, and PH

ENVIRONMENTAL SCIENCE

Measuring Abiotic Factors In The Field
Soil Testing
Understanding The Water Cycle By Studying Transpiration
Understanding Feeding Relationships
How To Complete Quadrat Sampling

FORENSIC SCIENCE 2

Blood Splatter
Forensic Entomology
Analysis of Skeletal Remains
Pollen Identification and Soil Analysis
Analysis of Glass, Firearms and Toxic Chemicals

MICROBIOLOGY

Staining and Observing Teeth Bacteria
Determining How/Where a Disease Spreads
Making Yogurt and Turning It Into Frozen Yogurt
Making Root Beer
Observing Soil Microorganisms Using a Berlese Funnel
The ABC TECHNOLOGIES books were written as a curriculum for Applied Biology and Chemistry classes, however, the activites in the books are appropriate for any science class looking for "real-world", hands-on activities that stress critical thinking skills. Use all eight modules as a complete, one-year course, or integrate them into existing courses for additional contextual learning opportunities.
Student work is divided into three main areas:
REFERENCE PAGES - These pages contain factual information the students (employees) need to know. Information is presented in short, interesting statements followed with critical thinking questions that check for understanding.
TRAINING LABS - These labs teach students an important laboratory skill or method, and how to correctly analyze and interpret any results that are collected. Critical thinking questions, calculations, and data analysis are included.
JOBS - Students are completely on their own to use the skills they have previously learned to solve an important real world problem for a client. Student research groups use their skills to complete tests, experiments, and gather data to solve the problem. After analyzing their data, each group must organize their information in the form of a formal letter, tables, and/or graphs so they can successfully communicate their findings to their client.

Price is for a complete student curriculum/teacher resource guide with copying rights. Includes a CD-ROM of entire contents in .pdf format for easy duplication.