Thriving in Challenging Times:
Connecting Education to Economic Development through Career Pathways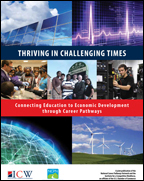 Thriving in Challenging Times profiles 17 local and regional career pathways programs from across the U.S. by documenting the challenges, strategies, results, and business engagement each partnership has experienced. Produced by CORD's National Career Pathways Network and the U.S. Chamber of Commerce's Institute for a Competitive Workforce, this publication highlights programs from diverse industry sectors and includes a checklist for career pathways planning in your community.
Click here to download the publication.
Pricing
10–99 copies (10 minimum)$3.50 each
100–249 copies$3.25 each
250 or more copies$3.00 each