Applied Biology/Chemistry DVD Series
Interest Level : 9-12
Copyright 1999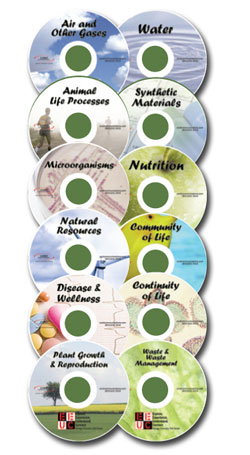 Applications in Biology/Chemistry gives science meaning by teaching its application in the real world. This interdisciplinary lab course teaches science concepts through issues surrounding work, home, society, and the environment.
The curriculum emphasizes problem solving, decision-making, hands-on learning, and real-life applications.
Each DVD provides an "armchair field trip" that introduces workplace situations and real-life role models. Group discussion "pause" segments encourage cooperative learning. Topics are presented via experiments, dramatizations, investigations, sports, news, and more.

Benefits
A diverse and interdisciplinary approach meets the needs of the different learning styles.
Consistent with national standards and workplace competencies of the SCANS report.
Cooperative learning activities promote active learning and invite exploration among all levels of students.
Ideal for infusion into Agriculture, Business, Health, Family & Consumer Science, and Industrial Technology.
Flexible integration allows the ratio of biology and chemistry content to be determined by the teacher.
Approved by NCAA as a Natural/Physical Science credit.
For a list of equipment vendors, click here.
For an equipment list, click here.
For additional resource guides, please click here. NOTE: This link is to another website, all orders for these resources, must be sent to Enrichment Plus.

Contents:
1. Air and Other Gases
2. Animal Life Processes
3. Community of Life
4. Continuity of Life
5. Disease and Wellness
6. Microorganisms

7. Nutrition
8. Natural Resources
9. Plant Growth and Reproduction
10. Synthetic Materials
11. Waste and Waste Management
12. Water

Components
VHS Videos

ISBN #
Title
Price
Locate Sales Representative
Click here to locate your local representative.